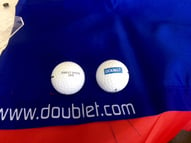 Doublet is a French family business that provides signage design, production and installation services to customers, like the Tour de France. They are at the top of their game in delivering visual impact. Everyone wants their signage, flags and services - corporates, retailers, public bodies, local public bodies and sports associations.
Using Business Growth TransformerTM, we facilitated some strategy development work for their management team in Lille, earlier this year. As usual, there was lot of debate around options for new growth. Doublet have lots of choices; they deliver to everyone from big brand customers on the global stage to local village organisations. With this breadth of opportunity, achieving concensus around strategy and 'focus' can be hard.

During our workshops, we discussed the concept of 'Sweet Spot Customer' and aligning strategy around this. The Doublet team thoroughly embraced this approach, resulting in renewed focus and business wins for their marketing and sales teams.

In classic Doublet fashion, their CEO, Gaelle Doublet, sent us a big French Flag for Euro 2016 support and two 'Sweet Spots 2016' golf balls!
Thank you Gaelle. Sweet Spot is the Secret of Strategy.