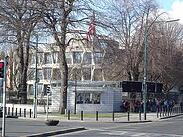 Winning the first international reference site is tough. The normal rules don't apply. Greg Turley (Cartrawler) told a great story recently which has become known as the 'embassy close'.
The challenge Greg faced was getting that critical signature from an international airline. He had tried everything. Frustration in getting it across the line was mounting. Vanity was the only route left. He told his sales manager to call the international airlines key buyer to tell him that the CEO of Cartrawer (Greg) was hoping to meet him in Warsaw in the Irish embassy, with the Irish Ambassador and some media to sign the famous contract.
The sales manager arrived back breathless with good news, the buyer was up for this and the meeting date was set. Only problem now was to organise the ambassador, who unfortunately was out of the country on the date requested.
According to Greg, he pleaded with the embassy 'just give me a room in the embassy even if the ambassador cant make it, an embassy porter will do'. Result? The contract was signed. As it happened the ambassador did make it and Greg and Cartrawler went on to dominate the web-based car rental engine market globally.
Do you have you have a story to share about closing that all-important first reference customer?