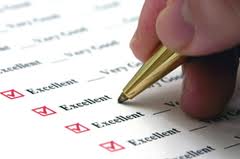 We had the pleasure, last Friday morning, of welcoming Sean Ellis (he of Dropbox, LogMeIn etc fame) back to The Gibson Hotel for a day of discussion and debate as part of this year's iGAP. I'm lucky to have seen Sean deliver before, so whilst I was looking forward to the day, I wasn't expecting any light bulb moments! But light bulb moments have a tendency to come along when you least expect them!
There's nothing new in the concept of 'getting out of the building' or 'talking to customers' - Steve Blank, Eric Ries and many, many others have long been extolling the virtues of customer interaction. Indeed, Sean himself has been using customer surveys as a key part of his growth hacking magic to great effect. So in the midst of a discussion on customer surveys and how best to get value from them was the last place I expected to find my nugget for the day.
When most of us begin to consider customer surveys what's the first thing we do? Well, generally we get a team together, we brainstorm a bit, and we come up with a set of questions or statements in which we seek validation from customers on our best thinking. But what if we're missing a trick? What if your customers' view on your product is radically different? You might never learn the true value of your product because you're asking customers the wrong questions.
Sean's suggestion - blindingly obvious when it's pointed out - is to ask your customers. Use big open questions to gather information about what your customers value in your product. Take what you learn. Craft your questions or statements and then ask customers to validate, prioritise etc. By using information gathered from your customers to build your questions, rather than the team's best thinking, you are much more likely to craft a set of questions or statements which really resonate with your customers.
So, before asking customers to validate your thinking, ask what they think first.